First Strategic Plan for the National Parks and Wildlife Service emphasises leadership role in nature protection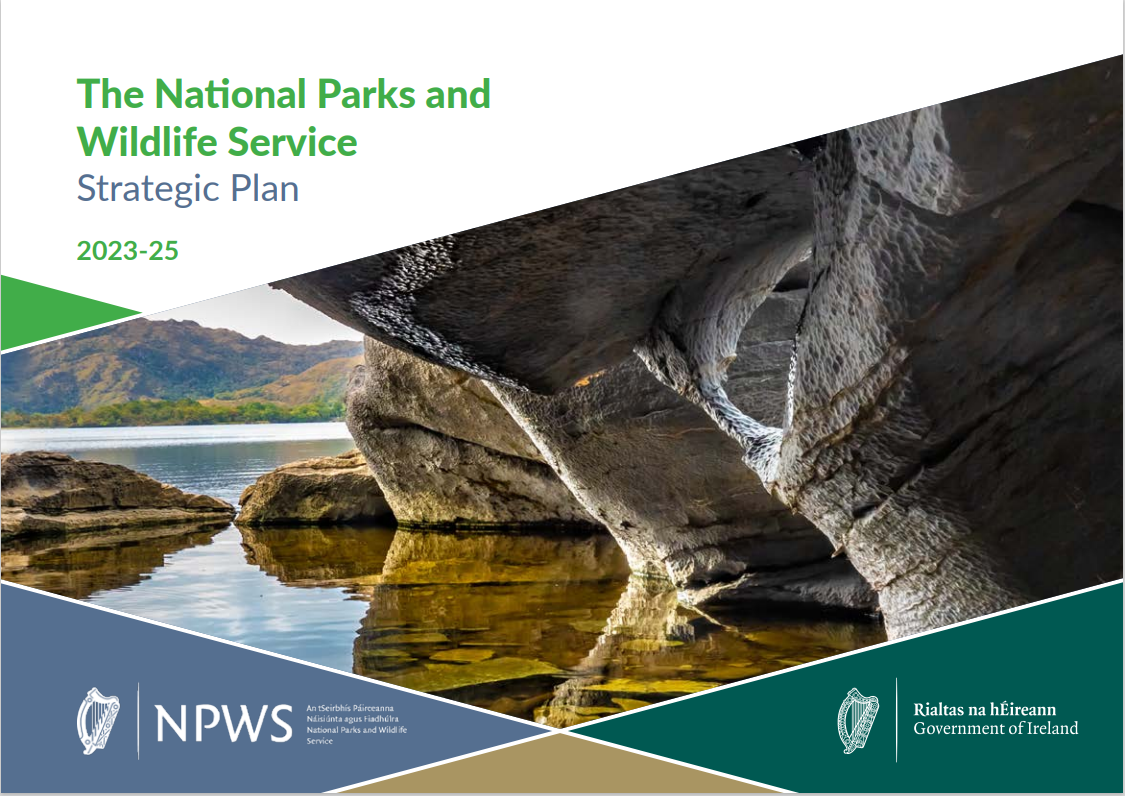 Date Released: Thursday, June 22, 2023
Strategic Plan sets out NPWS's core mission, values and priorities across six Directorates up to 2025
Publication marks a key milestone in efforts to renew the organisation, following on from the 2022 Action Plan
The first annual progress report on the implementation of the Action Plan is also published
Minister of State for Heritage and Electoral Reform, Malcolm Noonan TD, has today welcomed the publication of the National Parks and Wildlife Service Strategic Plan 2023-2025. The document sets out NPWS's role as an executive agency within the Department of Housing, Local Government and Heritage, with primary responsibility for nature conservation, wildlife protection and the presentation and preservation of our National Parks and Nature Reserves.
This Strategic Plan is the first for the NPWS, establishing the core mission, values and priorities of the NPWS until 2025 and outlining a new organisational structure with a coordinated focus through six Directorates to deliver upon its mission to protect nature.
Today's announcement marks a key milestone in efforts to renew the organisation, following on from the extensive Review and multi-annual Action Plan that was published in May 2022. A progress report on the implementation of that renewal process has also been published today.
Minister Noonan said the launch of the Plan is an important step in the renewal of the NPWS. He welcomed the clarity and simplicity of the NPWS mission which is to Protect Nature. He said:
"My priority is the protection, conservation and restoration of Ireland's biodiversity and this requires a properly resourced, staffed and equipped National Parks and Wildlife Service. To achieve this, I have increased NPWS funding significantly in recent years, bringing it from €23m when I became Minister to approximately €80 million today. In addition, I've grown the organisation's staffing cohort by 35%, from 349 in December 2020 to over 470.
Today's publication of the Strategic Plan builds on this investment and demonstrates the impact that the renewal of the National Parks and Wildlife Service has had over the past year. I welcome the publication, along with the progress report on the renewal process that underpins it, as a clear expression of how NPWS is leading the change we need for nature in Ireland."
Commenting Minister O'Brien said:
"I am very pleased to see this first Strategic Plan for the NPWS launched which clearly articulates its key areas of focus and will enable the organisation to play a stronger role in protecting nature and supporting biodiversity.
I am particularly pleased to note that this is a Strategy informed by the views of the public as well as stakeholders. Their views were carefully considered and are reflected in this Plan. It is clear from public submissions that our parks and nature reserves are places of learning, reflection and recreation and are held in high esteem by those who visit them. The feedback also told us that the challenges facing nature are well understood and there is strong public support for greater activity to protect nature. This Strategic Plan responds to that desire."
Director General of the National Parks and Wildlife Service Niall O'Donnchú added:
"As a society we are at a tipping point in our relationship with nature. I am confident that the NPWS can be the lead agency of change in that engagement. I wish to acknowledge the huge contribution of the staff of the National Parks and Wildlife Service and thank them most sincerely, for their tireless hard work and dedication to ensure the protection of Ireland's natural heritage. I also wish to thank those who contributed to the development of this Strategy through participation in the public consultation process.
A key focus of the Strategic Plan will be on delivery of results for nature protection and conservation. The Strategy contains seven over-arching key strategic goals for the NPWS during 2023-2025 which are:
Provide excellent scientific advice, to the NPWS, the Minister and the Government to support the protection of nature;
Drive, support and manage excellence in nature conservation in Ireland;
Safeguard nature and help prevent wildlife crime through enhanced supports, operations, policies, education and awareness;
Manage our national parks and nature reserves for nature conservation as well as for education and public access for the enjoyment of nature;
Deliver a strong, effective legislative basis for nature protection;
Develop and deliver excellent internal and external engagement and strong corporate governance and business supports; and
Support nature protection through excellent EU and international engagement.
The National Parks and Wildlife Service Strategic Plan 2023-25