One Hundred Shades of Green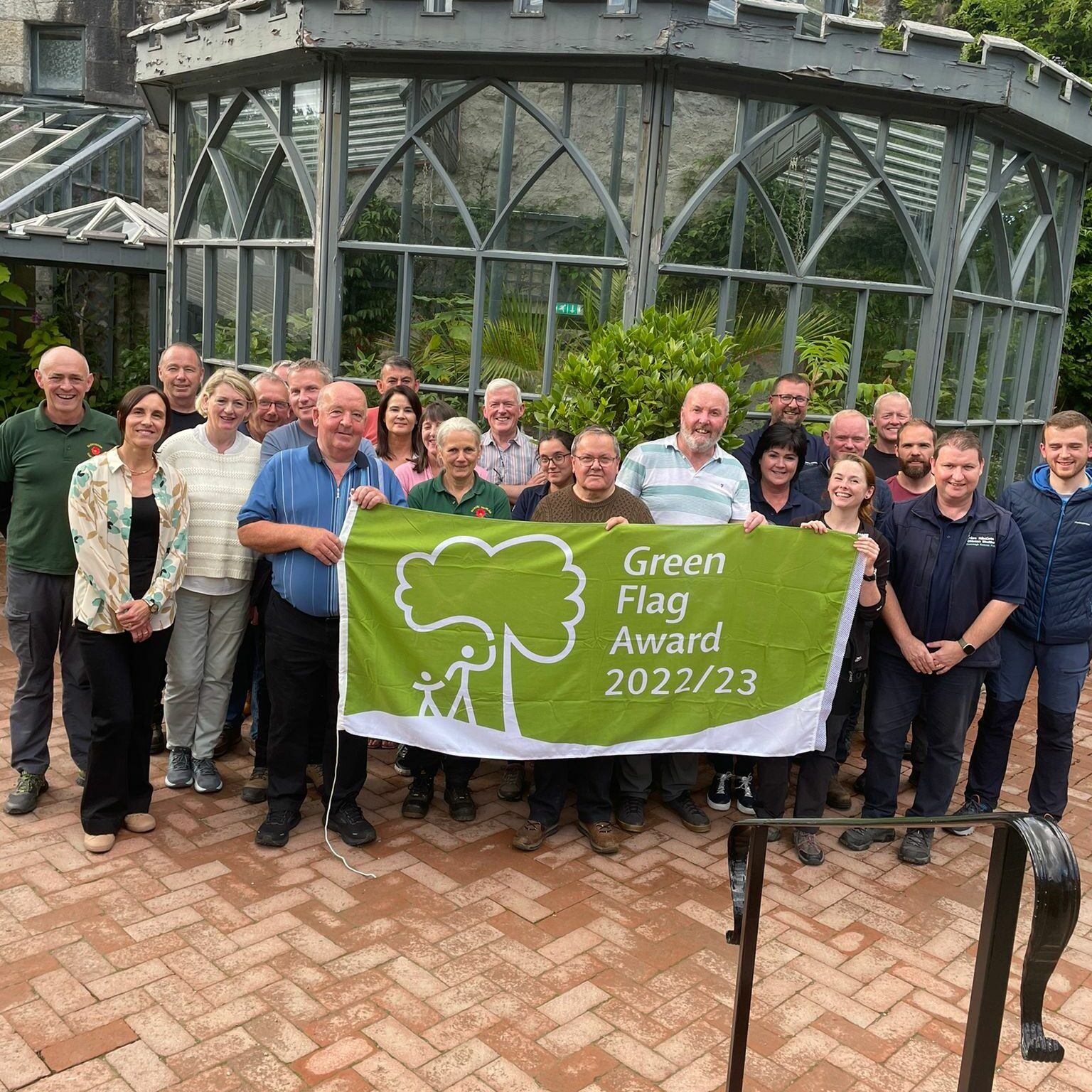 The 2022 Green Flag Awards were announced today by An Taisce Environmental Education, acknowledging Ireland's best public parks and gardens.
Ireland's success continued this year with four new Green Flag Award winners, three new Community Award winners and five new Green Heritage Site Accreditations – raising the total on the emerald isle to a record-breaking number of 104 awards. This includes three new Green Flag Award winners, three new Community Award winners and five new Green Heritage Site Accreditations. Of the 104 Green Flag sites Ireland was awarded today, 85 are formal public Green Flag Park sites and 19 are volunteer run Green Community Sites.
This was the 2nd year of the roll-out of Green Heritage Site Accreditation across Ireland. With the support of the NPWS and the Department of Housing, Local Government, and Heritage, 12 Irish Green Flag sites have now been accredited to Green Heritage Accreditation standard. This is an addition of five sites this year to last year's total of seven. Green Heritage Site Accreditation is awarded to public green spaces of historical and cultural significance.
Only awarded for exceeding tough environmental standards in green space management, and excellence of visitor attractions – the Green Flag Award Scheme is the mark of a quality park or green space and is recognised throughout the world.
Once again more Green Flag Awards have been secured by Irish Parks and Gardens than by any country, other than the UK where the scheme originated in 1996. Out of 136 awarded in Europe today, 104 were in Ireland.
This year participating European countries include Belgium, France, Germany, Ireland, The Netherlands, Portugal, Spain and Sweden
Emlyn Cullen – Programme Manager at the Environmental Education Unit of An Taisce, who run the Award in Ireland said:
"The continued success of the Green Flag Award in Ireland is a great measure of how much the country values parks and green spaces – and how well managed many of them are. I'd like to say well done to everyone who works in the sector here for their ongoing commitment. You make a huge positive impact on your local communities and the natural environment"
The Green Flag Community Award extends the Scheme to include community initiatives such as Community Gardens, Community Parks, and Tidy Towns Projects. By providing our community green spaces with access to Green Flag Award best practice we empower community groups to improve their local community and environment.
In Ireland the Green Flag Community Award Scheme is supported by the Department of Rural and Community Development.
Anne-Marie Toomey from Foulksmills Tidy Towns said:
"We are extremely proud to receive a Green Flag Community Award for our beautiful Foulksmills Park. It has been in the heart of our village for over 35 years and is a place for everyone to enjoy. The Award is a recognition of all the hard work and dedication the committee has put in over the years."
"A huge thank you to the community and Wexford County Council who have been on the journey with us and have continued to support us over the years."
The Green Flag Awards are judged every year by a peer jury of green space experts, who volunteer their time to visit applicant sites and assess them against eight strict criteria, including horticultural standards, cleanliness, sustainability, and community involvement.
Pollinator Award
Three of the 2022 applicants were given a special award for their work supporting pollinating insects. The Pollinator Award is jointly run by An Taisce Environmental Education and the National Biodiversity Data Centre, assessing pollinator-friendly management of parks and community spaces against the recommendations of the All-Ireland Pollinator Plan, which is implemented by the Data Centre.
This year, the Green Flag Pollinator Award was given to Malahide Demesne and Talbot Botanical Gardens, operated by Fingal County Council. South Dublin County Council's Tymon Park won in the town park category, and Julianstown Community Gardens were given the top prize in the community category. Castletown House and Parkland, Oldbridge Estate, and Tralee Bay Wetlands were all highly commended for their work.
Kate Chandler, the Community and Engagement Officer for the All-Ireland Pollinator Plan, said: "It is encouraging to see another year of strong applications to the Green Flag Pollinator Award. One third of our wild bees in Ireland are under threat due to a loss of food and shelter, and so we're thrilled to see the range of activities taking place across the country to support them. We had a number of impressive new applications this year, and look forward to working with An Taisce again to encourage more applications in the years to come."
For further information please make contact using the details below.
If you are interested in finding out further information about the Green Flag Award or other programmes run by An Taisce Environmental Education please e-mail us at ecullen@eeu.antaisce.org or phone 085 7074573.