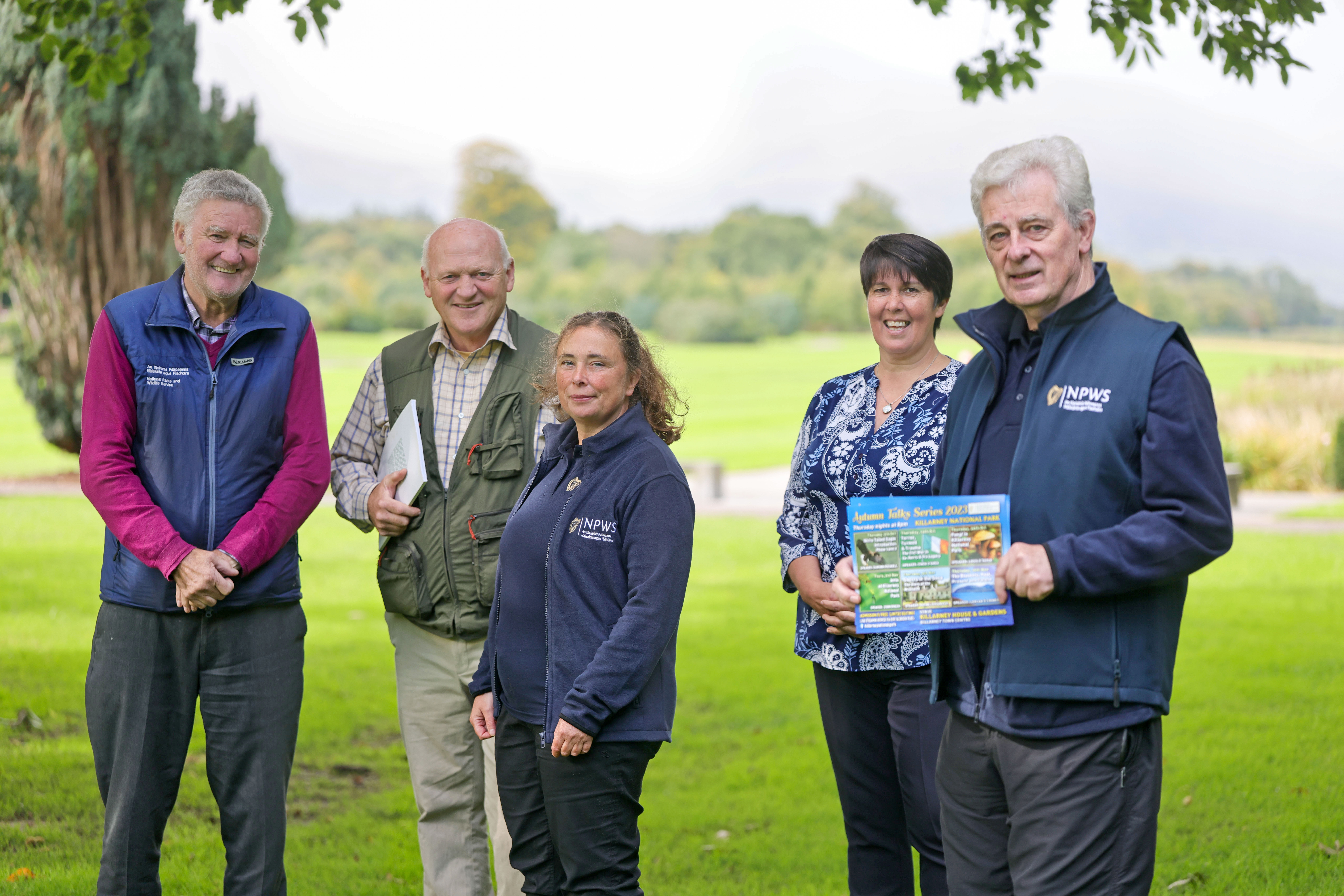 Commencing on Thursday Oct 5th
The first of six talks will commence at 8pm on Thursday October 5th in Killarney House and Gardens. Full list of programme talks below.
Please note no booking is required but seating is limited.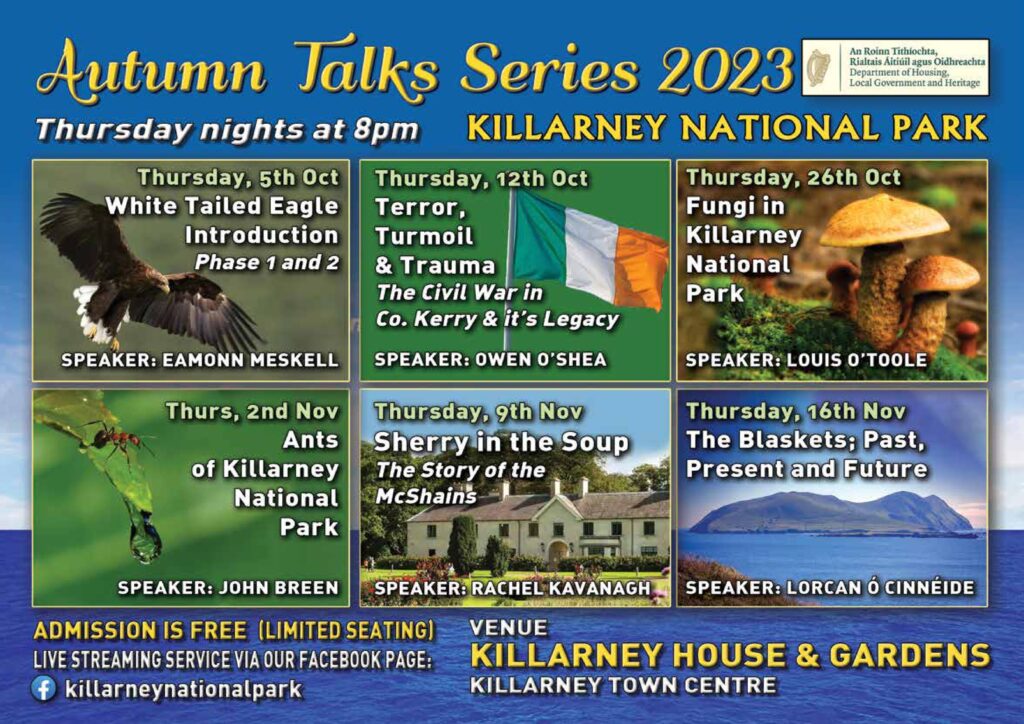 The White-Tailed Eagle – Thursday 5th October 2023
Introduction – Phase 1 And 2
Speaker: Eamonn Meskell, Divisional Manager, Killarney National Park
Eamonn has worked with the National Parks & Wildlife Service for over forty years. He has managed the introduction of the White-Tailed Eagle Phase 1 and 2. He is also co-managing "The Osprey Introduction" to Ireland. Eamonn is synonymous with Limerick Hurling having played senior and also served as a Senior Hurling Selector under the John Allen Era. Eamonn also played Senior Hurling with his Native Club Ahane in Castleconnell which produced one of the greatest hurlers of all time Mick Mackey.
Terror, Turmoil and Trauma: The Civil War in County Kerry & its Legacy – Thursday 12th Oct
Speaker: Owen O'Shea
A native of Milltown, Co. Kerry. Owen O'Shea is a Historian and Author of several books on History and Politics. His most recent book is the highly acclaimed "No Middle Path: – "Merrion Press 2022". Other books include Ballymcandy: The Story of a Kerry Ambush Heirs to the Kingdom Kerry's Political Dynasties "O'Brien's Press 2011". He works as a Media Communications and Customer Relations Officer with Kerry County Council. He has recently completed a PHD at The School of History in University College Dublin with the support of the Irish Research Council.
Fungi of Killarney National Park – Thursday 26th October
Speaker: Louis O'Toole
Louis O'Toole was born in Killarney and has always lived there. He has retained a close affinity to the wonderful natural environment that is in Killarney. A deep appreciation that has lasted from his early years to now. His only claim to fame is living proof that it is never too late, to finally get something of note completed in his seventies. He is not an expert Mycologist, but after completing this book he does admit to know a bit more than the average person at this stage. Broadly, he has produce a pain-staking list in his attitude to this book. Not only has the list provided an invaluable scientific record but it has also highlighted an aspect of stunning diversity of the ecosystems found within Killarney National Park.
Ants of Killarney National Park – Thursday 2nd November
Speaker: John Breen
John Breen is a Zoologist. He completed his PHD in Wood Ants at University College Cork. He then studied at the University of Bergen in Norway and later at Trinity College before becoming a Lecturer in the University of Limerick. He is a Retired Associate Professor. He retains his research interest in Ants, Bees and Wasps and has also been a Lifetime Bee-Keeper.
Sherry in the Soup –    The Story of the McShain's   – Thursday 9th Nov                             
Speaker: Rachel Kavanagh
Rachel is a Guide within Killarney National Park. Having worked at Killarney House and Gardens for the past six years she has developed a keen interest in the two families who lived here. Prior to becoming a Qualified Fàilte Ireland Tour Guide she was a Law Graduate working as part of a disaster Management Team. Rachel is also a Qualified Trainer/Assessor but her passion is very much centred on researching the history of The Earls of Kenmare and more contemporary American Connection.
The Blaskets:
Past, Present and Future ;- Thursday 16th Nov
Speaker: Lorcan O' Cinnéide
Lorcan O' Cinnéide is the Manager of the OPW owned Blasket Centre in Dun Chaoin at the tip of the Dingle Peninsula. He has overseen a complete renewal of the Blasket Centre which opened to great acclaim in June 2022 and is acknowledged as the finest facility of its type in Ireland. Lorcan is also responsible for the state holdings on the Great Blasket lslands. He has also been working with the OPW since late 2018, but was well known in the Seafood and Fishing Sectors form many years before as an Industry Representative for Ireland at European Levels. He is a former member of Ireland's Marine Institute and a former Chairman of Radio Na Gaeltachta. An accomplished speaker in Irish Lorcan is seen in the media advocating for his beloved Blasket Islands.