Biodiversity Week – May 19th to 28th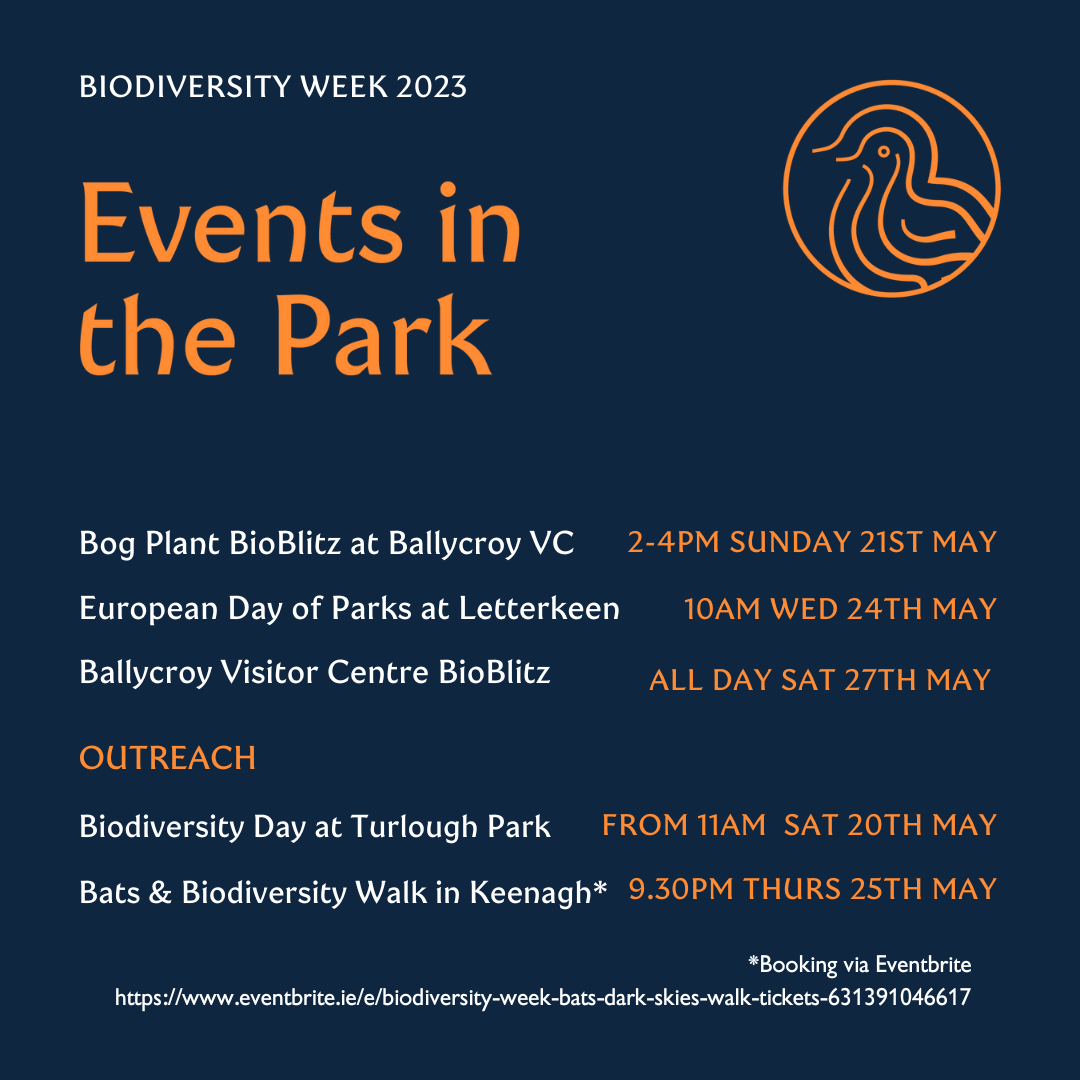 Biodiversity Week is running from May 19th to May 28th. To celebrate we will be hosting a number of events at Wild Nephin National Park, as well as taking part in some community events.
Bog Plant BioBlitz
On Sunday 21st between 2 and 4pm we will be doing a Bog Plant BioBlitz at the Ballycroy Visitor Centre. This will involve a tour of the bog, recording the various plants to be found as we go. This event is suitable for the whole family or anyone that wants to familiarise themselves with the plant life on our wonderful bogs.
European Day of Parks
On May 24th we will also be celebrating European Day of Parks with a mindfulness themed walk in the Nephin Forest. Our day starts off at 10am at the car park at the Letterkeen Trailhead, from where we will start our 5km hike. We will take our mindfulness journey along the 5km Blue (Bothy) Loop in the Nephin Forest, reconnecting with the natural world on the route. Along the way we will take time to listen, touch, feel, smell and taste as we awaken our senses and take time to celebrate our time in nature. There will be a break during the 5km hike for those who wish to join in with some gentle accessible yoga that will be offered by an experienced yoga practitioner.
After completing the 5km there will be a time to rest at the bothy, before taking a stroll along Vary's Loop (2.5km), starting at 12.30, where we will take time to discuss the rich history of the surrounding Nephin Begs Mountains and Valleys.
Ballycroy Visitor Centre BioBlitz
On Saturday 27th we will host a recording event at the Ballycroy Visitor Centre. Recording sheets and identification charts and books will be available to help you identify the different species on the grounds of the Ballycroy Visitor Centre. A fun event to introduce you to recording biodiversity!
Outreach
This year we will also be taking part in some community events. On Saturday May 20th we will be at the Biodiversity event on the grounds of the National Museum of Ireland – Country Life at Turlough Park here in Co. Mayo – see link for full details: https://www.museum.ie/en-IE/Museums/Country-Life/Events/Q1-2023/Q2-2023/Biodiversity-Day
On Thursday May 25th we are teaming up with the Mayo Bat Group for a Bats & Biodiversity walk under Mayo's dark skies. Spaces are limited for this event so please book using the following link: https://www.eventbrite.ie/e/biodiversity-week-bats-dark-skies-walk-tickets-631391046617