Muckross House and Gardens is the Best in Kerry for Tourist Attractions!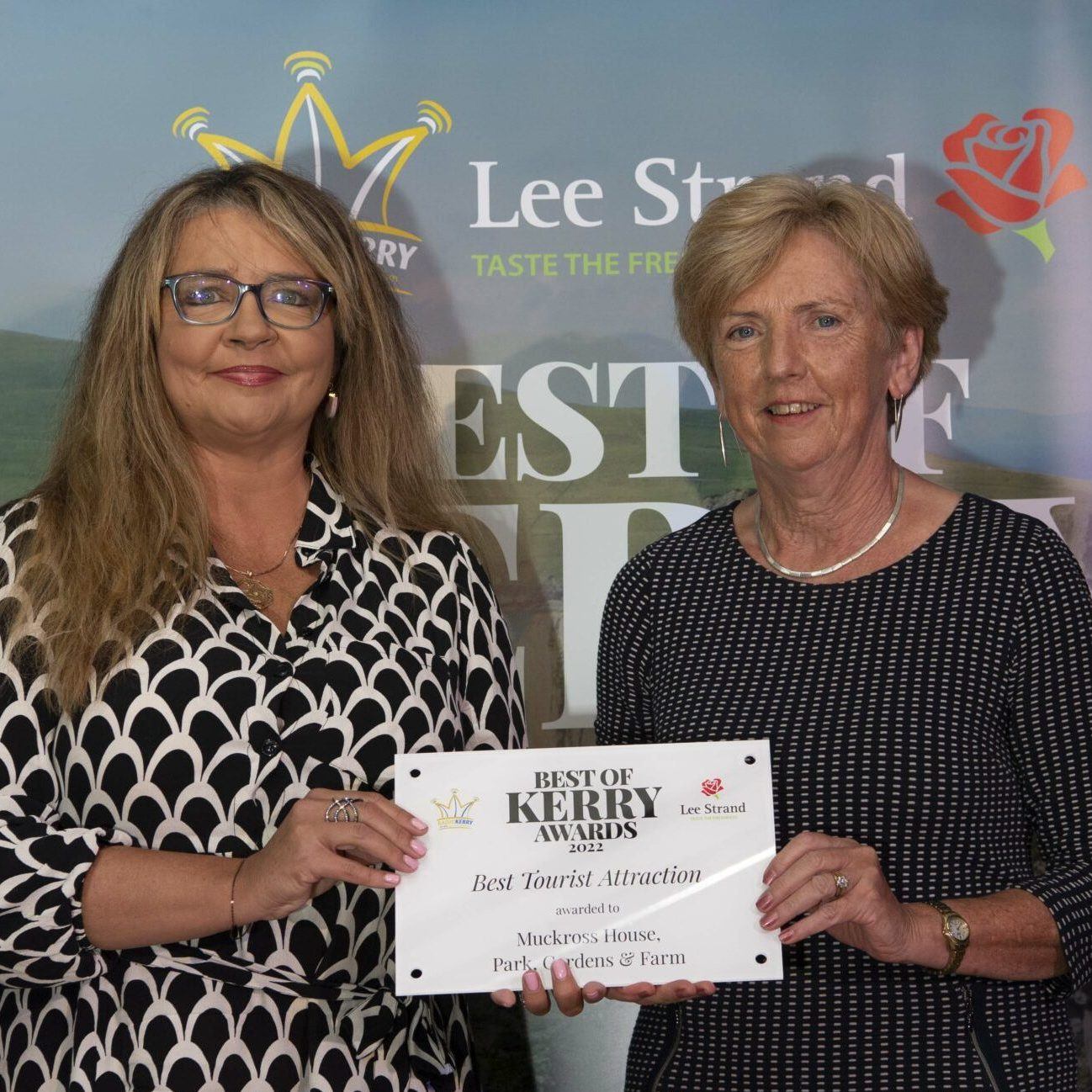 Ann Tangney, Supervisor Guide from Muckross House and Gardens accepting the award of Best in Kerry for Tourist Attractions, on behalf of Muckross House and Gardens at the Best of Kerry 2022 Awards.
17 Best of Kerry Award 2022 winners have been announced at an event at the Dúchas Comhaltas Centre at the Kerry Sports Academy,Tralee. It is the first year of the awards which were organised by Radio Kerry and sponsored by Lee Strand – The Best Milk in Kerry!
The Best of Kerry was launched in late August, promoted via Radio Kerry's radio and digital platforms and shared by businesses and communities countywide. Radio Kerry listeners and social media followers were initially invited to nominate their best of Kerry in 17 categories, which ranged from Best Beach to Best Takeaway, via the station's website. In this phase over 40,000 nominations were received spanning the county from north to south and east to west. They were then shortlisted to the top 5 in each category with two categories showing a tie for 5th place!
The shortlist was published and once again it was opened to a public to cast their votes in the 17 categories. Almost 150,000 votes were registered over a two week period which resulted in the top choice in each category being rewarded with a Best of Kerry 2022 Award!
Fiona Stack, General Manager, Radio Kerry said, "One the reasons we decided on doing the awards was we were conscious that there was a lot of negativity around – bad news that was unavoidable about the economy, utility bills, the Ukraine, and climate change. While all these are realities – we all know that Kerry is a beautiful place with great people, great businesses and great communities. And those stories need to be told too".
Gearóid Linnane, CEO, Lee Strand said "Lee Strand is delighted to collaborate with Radio Kerry to sponsor the Best of Kerry Awards 2022. The awards were a tremendous success, recognising the importance of supporting local and celebrating everything that is the best in our Kingdom from breath-taking beaches to fabulous food. What is great about the Best of Kerry Awards is that awards were based on people's choice and it was fantastic to see customers voting and showing their support. We would like to congratulate all of the winners and everyone who was nominated for an award over the past number of weeks."
Third party software was used to handle Best of Kerry nomination and voting processes. In the interest of fairness great care was taken to ensure that block nominating and voting did not unfairly influence the final results.
Radio Kerry and Lee Strand wish to acknowledge the support of John Stack, Dúchas Comhaltas Centre and Hazel Byrne, Kerry Sports Academy.
The Best of Kerry will return in 2023!
Photograph : Domnick Walsh info@dwalshphoto.ie