Free National Park Shuttle Bus 2023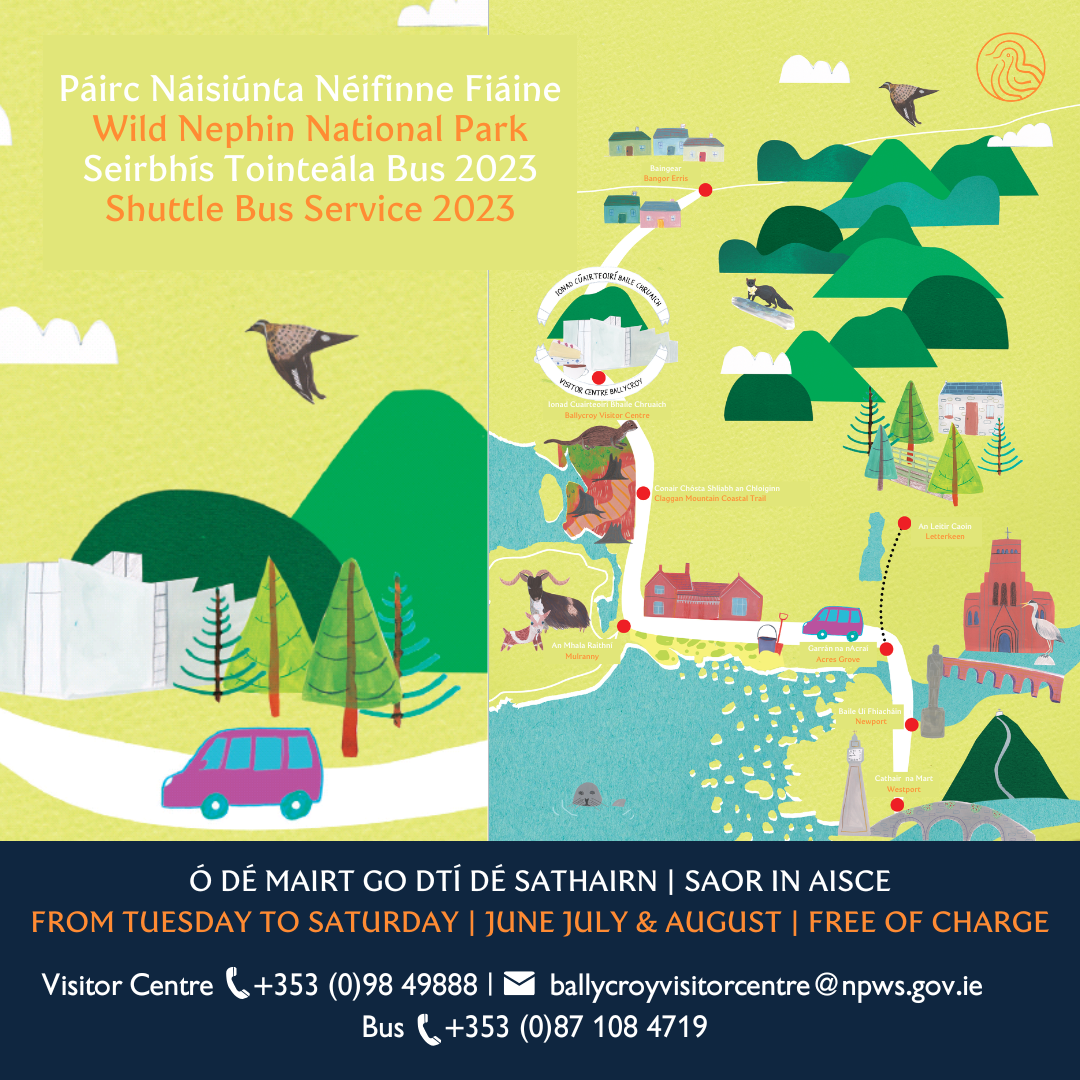 It's that time of year again – from Thursday June 1st our FREE National Park Shuttle Bus is back up and running between Westport and Bangor-Erris with multiple stops along the way.
Running from Tuesday to Saturday for June, July and August, this will tie in with our Wild Child Clubs on Tuesdays and Thursdays in July and August, and enable you to make the most of the National Park whether you're taking a short stroll and coffee at the Visitor Centre or embarking on the ambitious Bangor Trail. Take note of bus changes at Newport for Letterkeen.
See bus timetables below:
Bangor to Westport – Bus Timetable 1
Bangor – Westport
Morning Service
Afternoon Service
Bangor Erris (Beside the school)
Dep. 09:40
Dep. 14:55
National Park Visitor Centre, Ballycroy
Arr. 10:00 Dep. 10:20
Arr. 15:15 Dep. 15:35
Claggan Mountain Coastal Trail
Arr. 10:35 Dep. 10:45
Arr. 15:50 Dep. 16:00
Mulranny (Mulranny Park Hotel – Station House)
Arr. 10:55 Dep. 11:05
Arr. 16:10 Dep. 16:20
Newport (Acres Grove) **
Arr. 16:35 Dep. 16:35
Letterkeen (Srahrevagh)
Arr. 16:55 Dep. 17:05
Newport (Edward Lyons Statue)
Arr. 11:25 Dep. 11.35
Arr. 17:30 Dep. 17:40
Letterkeen (Srahrevagh)
Arr. 12:00 Dep. 12:10
Newport (Edward Lyons Statue)««
Arr. 12:35 Dep. 12:35
Westport (Opposite Ulster Bank)
Arr. 12:55
Arr. 18:00
** Request Stop
Dep. = Depart
Arr. = Arrive
Westport to Bangor – Bus Timetable 2
Westport – Bangor
Morning Service
Afternoon Service
Westport (Opposite Ulster Bank)
Dep. 11:00
Dep. 15:00
Newport (Edward Lyons Statue)
Arr. 11:20* Dep. 11:30
Arr. 15:20 Dep. 15:30
Letterkeen (Srahrevagh)
Arr. 16:00 Dep. 16:10
Newport (Acres Grove)**
Arr. 16:30 Dep. 16:30
Mulranny (Mulranny Park Hotel – Station House)
Arr. 11:50 Dep. 12:00
Arr. 16:45 Dep. 16:55
Claggan Mountain Coastal Trail
Arr. 12:10 Dep. 12:20
Arr. 17:05 Dep. 17:15
National Park Visitor Centre, Ballycroy
Arr. 12:35 Dep. 12:55
Arr. 17:30 Dep. 17:40
Bangor Erris (Beside the school)
Arr. 13:20
Arr. 18:00
* Change for Bus 1 to go to Letterkeen (Srahrevagh) ** Request Stop
Dep. = Depart
Arr. = Arrive